4 months ago
Seventy-four years ago, Russia accomplished what no country had before, or has since—it sent armed ground robots into battle. These remote-controlled Teletanks took the field during one of WWII's earliest and most obscure clashes, as Soviet forces pushed into Eastern Finland for roughly three and a half months, from 1939 to 1940. The Finns, by all accounts, were vastly outnumbered and outgunned, with exponentially fewer aircraft and tanks. But the Winter War, as it was later called (it began in late November, and ended in mid-March), wasn't a swift, one-sided victory. As the more experienced Finnish troops dug in their heels, Russian advancement was proving slow and costly. So the Red Army sent in the robots. (Popular Science)
4 months ago
(Fox Searchlight Pictures)
"I've always loved miniatures in general," Mr. Anderson said, speaking by phone from Paris. "I just like the charm of them." He used miniatures in"The Life Aquatic With Steve Zissou" and more extensively in "Fantastic Mr. Fox." He said he feels that audiences tend to recognize what is artificial, whether in computer-generated effects or otherwise, and that gave him liberty to use models. "The particular brand of artificiality that I like to use is an old-fashioned one," he added. (New York Times)
6 months ago
(Buildings around the Museum of Modern Art, shown in 1939, have fallen to accommodate expansion, changing the scale of West 53rd Street. Andreas Feininger/Museum of Modern Art)
Last year, the Museum of Modern Art caused a ruckus with a plan to raze its neighbor, the former American Folk Art Museum building, designed by Tod Williams and Billie Tsien. So MoMA trustees hired the architecture firm Diller Scofidio & Renfro to explore alternatives to demolition that would still permit expansion.
But last week, that firm's architects joined with Glenn D. Lowry, MoMA's director, to say that, unfortunately, the building needs to be torn down after all. They saw no way around it. (New York Times)
6 months ago
On Avenue Mont-Royal in Montreal, you'll find just what you'd expect—gaggles of traffic making their way through cold temperatures, quaint storefronts, natives and tourists bouncing from door to door and old-fashioned street lights at every corner. But those aren't the only lights shining up the sidewalks. Turn Me On Design recently won a competition launched in 2012 by Avenue Mont-Royal with IDEA-O-RAMA—their comic book inspired street lamps that help give the street a bite of personality. (Core77)
6 months ago
(Archival photo of the Dymaxion Deployment Unit prototype assembled in Washington in 1941. Courtesy of the Estate of R. Buckminster Fuller)
In the 1940s, R. Buckminster Fuller converted grain bins into emergency housing. For a long time it seemed they had disappeared from the earth, but at least a dozen have survived in New Jersey. (New York Times)
7 months ago
(Theaster Gates with employees and artists in his pottery studio, inside a converted beer warehouse in Chicago. Photo by Stephen Wilkes for The New York Times)
Six blocks from where I grew up, on Chicago's South Side, the artist Theaster Gates showed me a neo-Classical ruin, a Prohibition-era bank shuttered for 33 years that I only ever registered vaguely as a part of the area's enduring blight. "That's my bank," he announced with a flourish, pointing proudly to its glazed terra cotta and its ornamental eaves. Maybe it requires an artist to picture the possibilities in such a wreck, or a real estate developer to envision its promise. Gates, 40, is both at the same time, an enormous dreamer canny enough to make his outlandish ideas for the neighborhood a reality. When the bank was days from demolition, Gates spoke with Mayor Rahm Emanuel, whose brother, Ari, owns several Gates pieces; the city agreed to sell the abandoned building to Gates for $1, with the stipulation that he come up with the $3.7 million necessary for its renovation. A portion of that money, Gates devised, would be made from the bank's original marble, which he cut into individual "bond certificates" engraved with an image of the building, his signature and the words "In ART We Trust." He created 100 tablet-size bonds, selling them for $5,000 apiece; larger slabs, as weighty as tombstones, went for $50,000. Because they're works of art, Gates told me, the marble will actually increase in value, functioning like real bonds. "So, yeah, it's a bank! The bank should continue to make currency. I want it to have a banking function." (New York Times)
8 months ago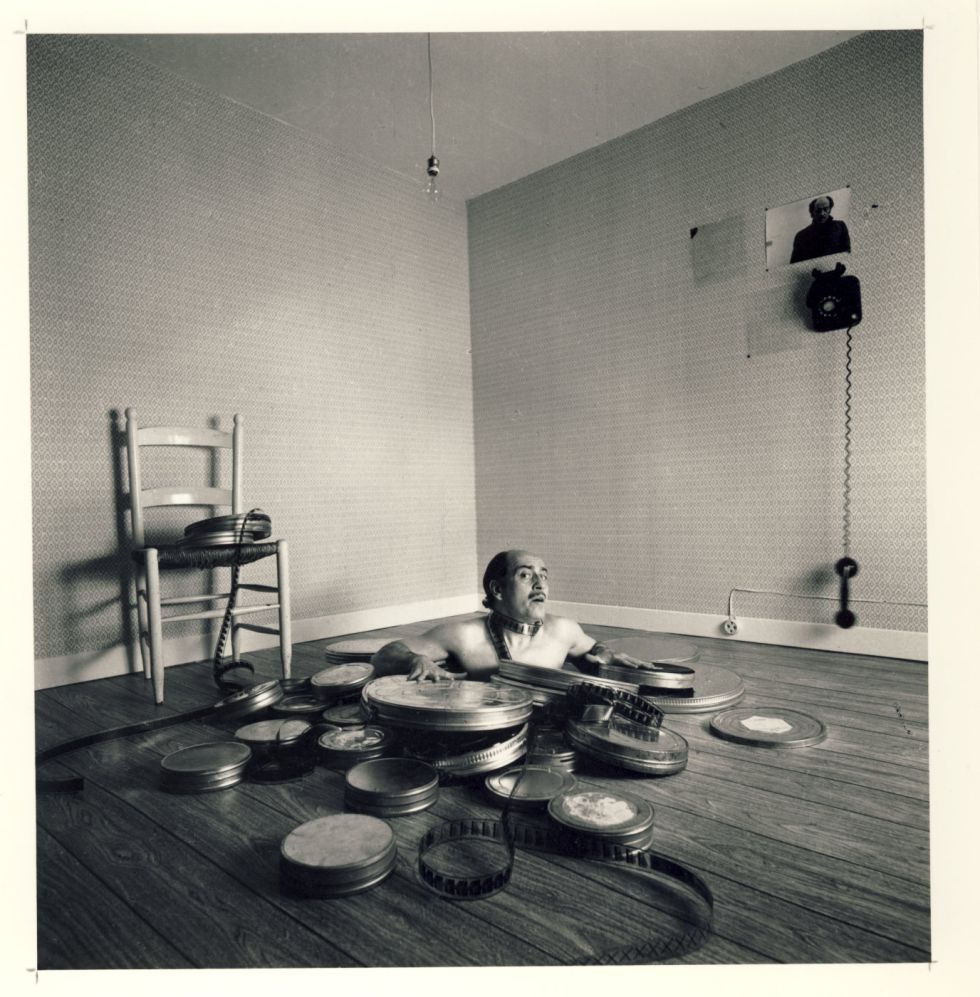 (José Luis López Vázquez, fotografiado por Alberto Schommer.)
via El Pais
10 months ago
(Image: Courtesy Oppland County Council. Photo by Johan Wildhagen / Palookaville, via Archaeology).
New archaeological discoveries continue to be made as glacial ice patches melt, revealing their previously unknown contents. Teams of archaeologists and historians have taken to wandering around newly exposed ground in locations as diverse as Norway, the Alps, and Glacier National Park. (BLDBLOG)
11 months ago
From the outside, space suits look deceptively simple. Covered in layers of protective materials and insulation, their Marshmallow Man exteriors do little to hint at the complex technologies that hide underneath. But a series of X-ray images, currently on view at the National Air and Space Museum as part of the Suited for Space exhibition, give a behind-the-scenes glimpse at the mechanics that have helped astronauts make their suborbital trips. (Wired)
1 year ago
Developed by designer Omer Haciomeroglu, the conceptual robot "erases" concrete structures piece meal without any of the waste or dust associated with cut-and-dry demolition methods. It has the ability to separate concrete from rebar and recycle the materials right on-site before cataloging them for reuse. (Fast Company)