2 months ago
(The Shard's transfer floor is a necessary inconvenience in order to reach the upper half of the building. Photo by Rory Hyde)
The possibilities (and limits) of lifts are the historical reason our cities are shaped the way they are – and now the UltraRope elevator cables promise to transform them yet again. (Guardian)
1 year ago
(Chicago. White: blue dots; African American: green dots; Asian: red; Latino: orange; all others: brown. Image by Dustin Cable) 
This map, created by Dustin Cable at University of Virginia's Weldon Cooper Center for Public Service, is the most comprehensive representation of racial distribution in America ever made. (Wired)
1 year ago
(Photo by Olivier Blouin)
21 Balançoires (21 Swings) is a giant collective instrument, a game where together we achieve better things than separately.
When in motion, each swing in the series triggers different notes and,  when used all together, the swings compose a musical piece in which certain melodies emerge only through cooperation. A Project by Daily tous les jours.
1 year ago
Urban photography by artist Nick Frank. (via ISO50)
1 year ago
Lecture by Neil Brenner //// Chicago Expander at Archeworks
Thrilled to announce the inaugural lecture of the Chicago Expander at Archeworks program that I co-direct along with Antonio Petrov. Hope to see you all there!!!!
/// Neil Brenner - The Urban Age in Question///  
Monday, January 28, 2013 at 6:00pm | Graham Foundation, 4 West Burton Place, Chicago, IL 60610   
In what sense is the 21st century world urban? In this lecture, Neil Brenner critiques contemporary ideologies of the "urban age."  Excavating Henri Lefebvre's (1970) notion of generalized urbanization, Brenner argues that the geographies of urbanization can no longer be conceptualized with reference to cities, metropolitan regions or even megalopolises, but today encompass diverse patterns and pathways across the planetary sociospatial landscape - from Manhattan to the Matterhorn, from the Pearl River Delta to Mount Everest, from the Nile River valley to the Pacific Ocean. This variegated urban fabric must become the focal point for new approaches to urban theory, strategies of collective intervention and imaginaries of built environments.
Neil Brenner is Professor of Urban Theory at the Harvard Graduate School of Design (GSD) and the coordinator of the newly founded Urban Theory Lab GSD. He previously served as Professor of Sociology and Metropolitan Studies, and as an affiliated faculty member of the American Studies Program at New York University.  He holds a Ph.D. in Political Science from the University of Chicago (1999); an MA in Geography from UCLA (1996); and a BA in Philosophy from Yale College (1991).
1 year ago
Interesting symposium if you are in NYC this Friday and Saturday
2 years ago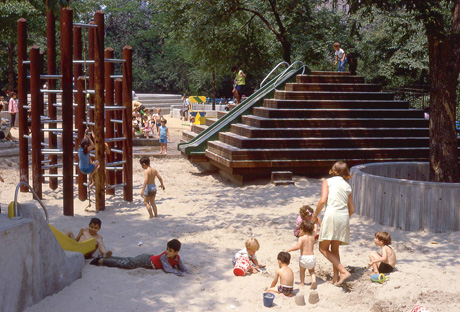 (Satisfied customers at Richard Dattner's West 67th Street adventure playground, 1966. Photo Richard Dattner.)
"As architect James Sanders points out in his book Celluloid Skyline, sometime around the start of Mayor John V. Lindsay's administration in January 1966,official New York stopped behaving like the grudging, gritty industrial city it had been and started acting like a giant outdoor stage for itself, promoting amenities, events, and initiatives that framed the city as a place to be collectively enjoyed, not simply survived. It also openly embraced the concept of fun, and the drama that public pleasure affords in a post-industrial metropolis. In essence, enjoyment of the city became an accepted part of public policy." - James Trainor in Cabinet in Issue 45
2 years ago
The Plan of Chicago as imagined by Pruned. Part of his fantastic (Im)possible Chicago series. 
2 years ago
(Image courtesy of Smoke Control Lantern Slide Collection, ca. 1940-1950, AIS.1978.22, Archives Service Center, University of Pittsburgh.)
In 1941, influenced by a similar policy introduced in St. Louis four years earlier, the city of Pittsburgh passed a law designed to reduce coal production in pursuit of cleaner air. Not willing to cripple such an important part of the local economy, it promised to clean the air by using treated local coal. The new policy ended up not being fully enacted until after World War II.(The Atlantic City)
2 years ago
"What sets Medellín apart is the particular strength of its culture of urbanism, which acts now almost like a civic calling card. The city's new mayor, Aníbal Gaviria, spent an hour describing to me his dreams for burying a congested highway that runs through the middle of town, building an electric tram along the hillsides to stem the sprawl of the slums, adding a green belt of public buildings along the tram, rehabilitating the Medellín River and densifying the city center — smart, public-spirited, improvements. It's as if, in this country whose relatively robust economy has underwritten many forward-thinking projects, every mayor here has to have enormous architectural and infrastructural plans, or risk coming across as small-minded or an outsider." (New York Times)