1 day ago
Great photos by Kate Joyce of INsite, the installation by Luftwerk at the Farnsworth House. (via Metalocus)
1 month ago
(Photo by David Schalliol)
On Saturday August 23, 2014, artistic duo Luftwerk and MAS Context organized an event in Chicago's Marina City to continue their recent work in architecturally significant buildings such as the Robie House, Fallingwater, and Farnsworth House. For this occasion, Luftwerk created a site-specific video and light installation that took place on the rooftop of the West Tower. This event was organized to celebrate Marina City, its architect Bertrand Goldberg, and Chicago. (MAS Context) 
1 month ago
Visitors to Korea's National Museum of Modern and Contemporary Art can now frolic over and amongst a field of mushroom-shaped inflatables based on the landscape of a Korean fairy tale.
Designed as a collaboration between Korean architects Choi Jangwon, Park Cheonkang, and Kwon Kyungmin, the temporary installation is the first Seoul edition of MoMA's Young Architects Program (YAP), an initiative that this year also saw pavilions built in New York, Istanbul, Rome and Santiago. (Dezeen)
5 months ago
Red, blue and green lights moving across a faceted triangular structure created multicolored shadows in this installation by Australian lighting specialist Flynn Talbot.
Talbot, whose studio focuses on lighting installation design, created a three-sided panel with one surface covered in spiky cardboard structures of up to two metres in length. This piece was mounted onto a wall at the PSAS gallery in Perth, Australia, for the Primary exhibition. (Dezeen)
5 months ago
The Chicago based team, Design w/ Company, led by Stewart Hicks & Allison Newmeyer will be tasked with activating the Cultural Plaza courtyard with their temporary installation entitled, Pavilion MMM (Miami Many-a-chair Monument). Congrats Stewart and Allison!
7 months ago
In the late 1990s artist Janet Echelman traveled to India as a Fulbright Scholar with the intention of giving painting exhibitions around the country. She shipped her painting supplies ahead of time and landed in the fishing village of Mahabalipuram to begin her exhibitions with one major hitch: the painting supplies never arrived. While walking through the village Echelman was struck by the quality and variety of nets used by the local fisherman and questioned what it might look like if such nets were hung and illuminated in the air. Could it be a new approach to sculpture? A new chapter in her artist career was born, and the artist has since dedicated her time and energy to creating these massive net sculptures in locations around the world. (via Colossal)
1 year ago
(Photo by Olivier Blouin)
21 Balançoires (21 Swings) is a giant collective instrument, a game where together we achieve better things than separately.
When in motion, each swing in the series triggers different notes and,  when used all together, the swings compose a musical piece in which certain melodies emerge only through cooperation. A Project by Daily tous les jours.
1 year ago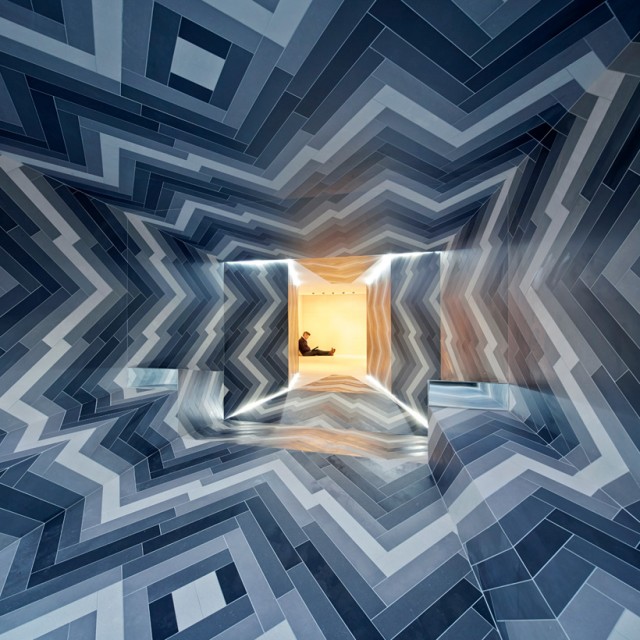 Installation by Lily Jencks / Nat Dorent using Marazzi's SistemN tiles. (via Fubiz)
1 year ago
Sou Fujimoto has designed the Serpentine Pavilion for 2013. Fujimoto had this to say about his design: "The delicate quality of the structure, enhanced by its semi-transparency, will create a geometric, cloud-like form, as if it were mist rising from the undulations of the park. From certain vantage points, the Pavilion will appear to merge with the classical structure of the Serpentine Gallery,  with visitors suspended in space." (The Fox is Black)
1 year ago
"The Phoenix is closer than it appears," a 4 x 4 x 8 meters-room was constructed by artist Thilo Frank at the Museum of Modern Art in Aalborg, Denmark. (Colossal)